MARIE
Mediterranean Building Rethinking for Energy Efficiency Improvement
MARIE is a project funded under the Interreg-Med program, developing a new common policy in relation to energy renovation strategies, by creating a socioeconomic context and more appropriate technical and financial leverage capacity in Med countries.
The project was initiated in April 2011 as one of the first three strategic projects of the European Union MED programme, with a duration of 45 months. It was led by the Department of Territory and Sustainability of the Government of Catalonia, with the participation of 22 partners from different Mediterranean regions in Spain, France, Italy and Greece, Montenegro, Malta, Cyprus, Slovenia and Portugal.
Objetivo
The project's main objective was to establish the technical, economic and social basis for large-scale energy efficiency improvement of the existing Mediterranean building stock, within the framework of EU policies. The project aimed to overcome the main market, institutional, legislative and financial barriers with a Mediterranean building energy efficiency strategy (MEDBEES) aimed to stimulate refurbishment and energy efficiency improvement measures in the residential and tertiary building stock with the participation of local SMEs.
The project included four pilot studies. Expected results New legislative framework, institutional tools and financial mechanisms, tested in pilot studies. Measures to support local and regional SMEs in order to qualitatively and quantitatively increase the supply/range of solutions for energy efficiency improvement. Political commitment to implement the MEDBEE strategy. Information and education/training programme. x.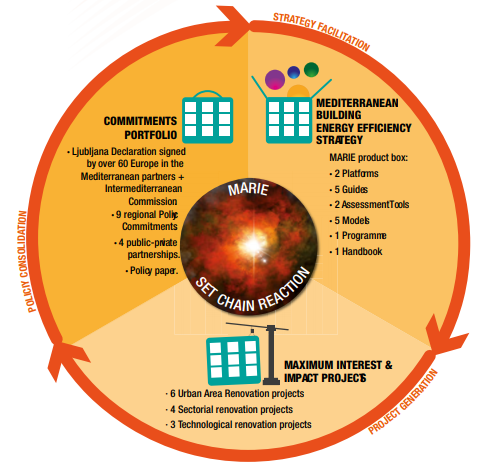 Implicación/participación de LIMA
LIMA has participated as key expert in deep energy renovation strategies. In addition, LIMA has also led the improvement of energy efficiency legislation and the introduction of innovative financial mechanisms (PPP- Public Private Partnership) in two pilot projects.